Mr. Simpson (Film Class) - Sydney and Jacob
Mr. Simpson teaches the film class as well as several other arts classes. Our project was to use technology to help students engage in the class more through social media. The website page for the course was updated to include the links to these sites. The twitter page is synced with the webpage to post a tweet whenever the page is edited. YouTube and Tumblr accounts were also made for the students to post their videos and inspiration sources. These sites could also be used for any class with a lot of digital content. Below is a video providing the details of the digital component of the placement.
Links For Social Networking Sites:
Powered by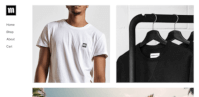 Create your own unique website with customizable templates.