Ms. Martin-Jordache: Natalija & Jonathan
---
Teacher: Ms. Martin-Jordache
Subject: French
Technology Used: Google Documents & Weebly
Project Description
For Ms. Martin-Jordache, my partner and I found that she did not want anything too specific done for her. Instead, she would come up to us whenever she had a question or concern regarding Google Docs and Weebly.

At first, she wanted to get assistance with Moodle. We were able to deter her from that path and managed to introduce Ms. Martin-Jordache to Google Docs and the various options it provides. We showed her the concept of sharing and live editing, as well as time-stamped forms. We set up a form for her students to fill out their e-mails. Then we taught her how to create folders and organize her documents, and we shared a document with her students. We shared a Google Doc how-to guide with Ms. Martin-Jordache shortly after.

The next task that we were given to do was help her with Weebly. She wanted to know how to hide pages and edit the banners of the site. We showed her how to do just that, and added in how to create sub-pages.

Other Technology Uses
Weebly: We would recommend any teacher wanting to change their site provider, or start up a site for the first time to use Weebly. It is wonderfully simple and mostly drag and drop. If you want a title, drag the title onto the page and voila! A website will allow students to access resources and download missed assignments, as well as participate in a forum if they have a question. There is also a contact form option in which students fill out a digital form and the teacher's e-mail remains anonymous.

Google Docs: Google Docs is recommended to teachers that don't mind hanging around on nights and weekends, marking submissions online. Everything that is done to a document is time-stamped and easy to access/share. Instead of using paper, one could mark/edit online which makes for much quicker review. We recommend it for language courses
---
Portfolio Piece
Powered by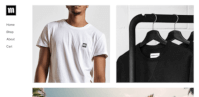 Create your own unique website with customizable templates.