Ms. Osier's 2016 Placement Portfolio;
by Nathan Sharma & Kien Tran

---
Our placement encompassed the creation and presentation of several documents and oral lessons. Through the application of modern educational tools, the objective of our time spent in placement was to facilitate the implementation of technological enrichment into Ms. Osier's day classes.

Listed below are a few of the activities assigned to us by Ms. Osier throughout the course of our placement in an effort to accomplish this goal:
---
Educational Tools

We provided verbal lessons and written documents to guide Ms. Osier through the use of various technologies/online tools including Windows Movie Maker, Bitstrips, PowToon, Evernote and Google Drive. During our weekly meetings, we discussed which technologies could be applied to future classes in order to shift the focus of our placement activities.
Online Research

We conducted various miscellaneous research activities for Ms. Osier, including shopping online retailers for a cost effective microphone solution, finding intuitive time management tools and comparing presentation suites. During our weekly meetings, Ms. Osier assigned us with new subjects to develop information on in relation to the current activities.
---
Sample Documents & Activities
---
Movie Maker Starter Guide
Written tutorial describing the basic functions of Windows Movie Maker with step-by-step screenshots utilizing the Windows snipping tool & "puush".

The purpose of this activity was to educate Ms. Osier and the students of her two classes on the basic functions of Movie Maker. This knowledge was to be applied in following lessons in order to launch a multi-media group assignment utilizing the Movie Maker software and an independent recording program.
---
Bitstrips Starter Guide
Written tutorial describing the basic functions of Bitstrips with visual aids utilizing the Windows snipping tool & "puush".
The purpose of this activity was to provide Ms. Osier with a simplistic and easy to follow tutorial on the functionality of Bitstrips that could be presented to her classes as a handout. In addition to the creation of this document, we provided Ms. Osier with a walk through presentation on implementing this technology during a meeting in person. This technology was to be applied in one of her two classes for a group assignment, as well as in future business classes.
---
Summary
We enjoyed our time at placement and believe it provided us with a productive outlet for exercising our knowledge of technology. Working in tandem with Ms. Osier insured that we both benefited from the research/activities conducted.
Powered by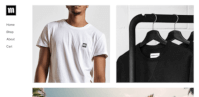 Create your own unique website with customizable templates.